Is this better than its progenitor, the famous Parker 51? †With its sleek lines and hooded nib the old 51 is an icon beloved by most every pen collector out there. How could a clone be better? Especially since its from CHINA! OMG...Imcan year the whining right now. Whatever.
Itís the Wing Sung 618. †Itís not going to replace the 51. Itís certainly a damn good design all by itself. What makes it really cool to me? Two things...first, you can get transparent red and blue and other colors both clear and opaque...even a crystal clear demonstrator model...second, itís a piston filler which holds a huge volume of your favorite bottled ink. For me, the clear demonstrator is the one. Not only the barrel but the section and feed all show the inkís color beautifully.
No, it doesnít take a cartridge. And although Iíve got lots of cartridges around here, both universal and proprietary, I donít use Ďem much. So thatís not a negative for me.
The nib Iíve seen on these is a .5 fine.
These are going for about $15 delivered. It takes between three and four weeks for shipping. You can get either silver or gold tone hardware. I have the clear one in hand and it writes dependably and smoothly. I have a transparent red and blue with silver trim on the way.
Iíll post some pics below...all photos are of the clear demonstrator with the color being a product of the ink.
You can find these on eBay or on Amazon with fast delivery for $3 more.
https://www.amazon.com/Wing-Piston-Fountain-Transparent-Silver/dp/B0754K779M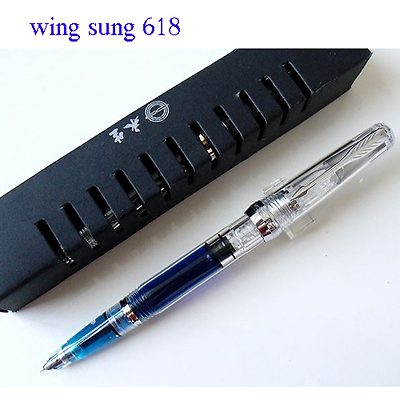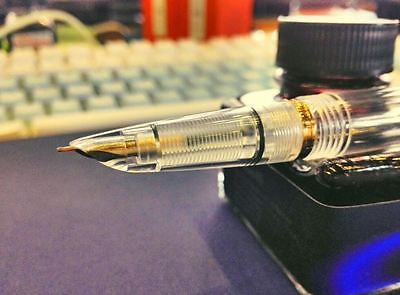 _________________
Council Member, Trading Post & General Site Moderator.
Founding BoB Bombers Squadron Commander, Un-Ret